Blog
Keeping you up to date on the progress of the Named Person scheme and the NO2NP campaign.
Posted 8 years ago
On Saturday NO2NP officially launched its online petition to oppose the Scottish Government's Named Person scheme. Volunteers took to the streets of Dundee to help raise awareness of the campaign by giving out leaflets to the public and gathering signatures for the petition.
A team of volunteers were also out in Kirkintilloch, the constituency of the Minister for Children and Young People.
The petition doubled in size over the launch weekend, and now has more than 4,500 signatures. Sign and share the petition here.
NO2NP Roadshow speakers Dr Stuart Waiton, a sociologist and lecturer at Abertay University, and Lesley Scott, from Tymes Trust, joined volunteers at the Dundee Action Day.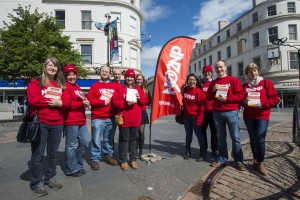 The Action Day and petition launch comes ahead of the appeal hearing by campaigners opposing the Named Person scheme, due to be heard in the Court of Session this Wednesday and Thursday.
A spokesman for NO2NP said: "We remain deeply concerned about the threats to the human rights of families to their privacy in their own homes as well as the breaches of data protection laws as the state passes confidential family information to and from different public bodies.
"The state thinks the named person – a health visitor, a teacher or other professional – can fulfil the role better than mums and dads which is ridiculous.
"It's vitally important that the higher courts consider this issue, because it's driving a coach and horses through parents' rights and private family life."
NO2NP Action Day: Dundee and Kirkintilloch, Saturday 30th May.