Blog
Keeping you up to date on the progress of the Named Person scheme and the NO2NP campaign.
Posted 6 years ago
Last week was particularly busy for the NO2NP team. You can read about our two roadshow events here and here. We also had a fantastic response to our Action Days.
St Andrews
The sun was out on Wednesday morning. So too were a number of families visiting St Andrews for the school holidays.
Thanks to the great media coverage in recent weeks, many people are now up-to-speed with many of the concerns surrounding the scheme. Others who were unaware of the scheme were visibly shocked when they heard about it. "Terrible idea" and "whose hairbrained idea was that?" were among the comments made.
There was a constant flow of people of all ages and from all walks of life signing the petition on our tablet devices, including a retired policeman who had been involved in safeguarding children.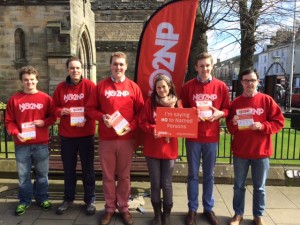 A few of the folk who signed were also happy to be photographed. Thanks everyone! And a big thank you to the superb team of volunteers, including a number of St Andrews students.
Haddington
On Saturday morning we were back in Haddington on another sunny morning, as our volunteers gave out flyers in the historic town's High Street.
Once again we met people from all walks of life, including many young families.
• A health visitor said that her colleagues in UNISON were quite right to have expressed their opposition to the Named Person in a recent survey.
• A local doctor was also alarmed to discover that doctor/patient confidentiality would have to be breached. If GPs were consulted by patients who were parents and their ailment might have an impact on the wellbeing of any child in the family, then the Named Person would have to be informed. The doctor rightly observed that this would damage the trust between doctors and their patients, who may no longer feel able to be transparent about their health.
• Another gentleman said that the scheme was an "insult" to all parents who are doing a great job in raising their children.
Our next roadshow event and Action Day will be in Broughty Ferry this Friday night and Saturday morning. If you live in the area, please come along and support us at one or both of these events!