Blog
Keeping you up to date on the progress of the Named Person scheme and the NO2NP campaign.
Posted 5 years ago
The Scottish Government has thrown a veil of secrecy around stalled efforts to salvage its Named Person scheme after judges declared their original plans illegal.
Education Secretary John Swinney ordered a three month "intense engagement" period after the UK Supreme Court blocked the planned implementation of the scheme from August 31 last year. Officials also stated: "Before the end of 2016, the Deputy First Minister intends to return to Parliament and announce the next steps."
But two months into 2017 there have still been no updates from the Government. A standard reply letter saying the Minister will return to Parliament "in the new year" is still being issued by officials.
A NO2NP supporter filed a Freedom of Information (FOI) request last month in a bid to secure access to the minutes of these "engagement" meetings since August last year.
Normally such minutes must be made public, but officials blocked their request, exempting the Government from handing over the data "because we intend to publish that information within 12 weeks of the date of your request" (12 January 2017).
The letter responding to the FOI request states:
"We have found that, on balance, the public interest lies in favour of upholding the exemption. We recognise that there is some public interest in release because of the interest in the content of discussions at the meetings, and this will be met by our planned publication. In the meantime, there is a greater public interest in taking the time necessary to ensure the information has been properly collated and checked before it is published as planned."
Lesley Scott of Tymes Trust, who submitted the FOI request, said: "It would seem that the Scottish Government has learnt nothing over the last 3 years and is determined to repeat the same mistakes that ended up in them losing in the UK Supreme Court last year.
"Not only did they bar anyone who disagrees with the Named Person scheme from taking part in the 'intense engagement' in the first place, they are now refusing to even let us know what was said.
"For a Government that claims to value openness, transparency and citizen participation it has fallen far short of its aims yet again."
NO2NP spokesman Simon Calvert said:
"The engagement period was really a sham consultation because Mr Swinney only wanted to deal with those who support the scheme and organisations mainly funded by the Government.
"He refused to engage with us even though we represent an important cross-section of Scottish society, huge numbers of parents and more than 35,000 people who signed our petition. We have led the public discussion on this issue for two years – we even won an award for our campaign – yet he won't meet with us.
"The three-month 'engagement' has long since ended. It looks like it could be more like six or seven months – March or April 2017 – before we hear anything."
"It just shows how difficult they are finding it to salvage their Named Person plans. The initial Government reaction to the Supreme Court ruling was to pretend we'd lost our challenge – a classic example of spin and denial.
"On the day of the ruling in July they were telling the BBC they hoped to roll out the system before the end of the 2016. By September were talking about an "ambition to work towards August 2017". Now even that looks optimistic if they are going to bring in a Bill and get it through all its stages in Parliament – and consult on new statutory guidance to go with it – in time for the summer recess."
Posted 5 years ago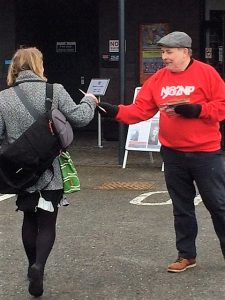 On Monday this week, around 200 local residents from across Perth and Kinross attended a public meeting hosted by the Scottish Cabinet at Pitlochry Festival Theatre.
The purpose of the meeting was to enable local residents to air their concerns about issues affecting them so, since the Scottish Government's imposition of a Named Person will affect every single family with children under 18 in Perth and Kinross (as well as the rest of Scotland), NO2NP volunteers were there to greet them.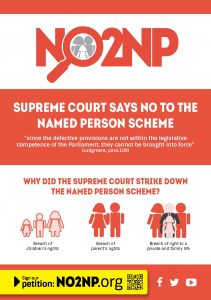 The flyer that most people took summarises what the Supreme Court judgment achieved last July in stopping the unpopular legislation in its tracks. In a nutshell, the Named Person's blanket powers to 'grab and share' data on families were unanimously struck down by the judges.
One gentleman had not heard of the campaign but as soon as he was told, he was enthusiastically in support of it. Another delegate's outraged response at the scheme was another example of how angry people are at the imposition of such a scheme on every family in Scotland. Especially when it was never consulted on or requested by the vast majority of Scottish parents.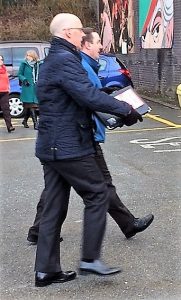 Even Deputy First Minister John Swinney took a leaflet – we hope it will remind him that he still needs to make his announcement on the future direction of revised Named Person legislation in light of the Supreme Court's damning judgment.
There were lots of questions asked at the meeting and sadly there wasn't time for everyone to ask their questions publicly. But, to their credit, the Cabinet met delegates over tea and coffee afterwards, and local NO2NP supporter Lesley Scott took this opportunity to ask the Deputy First Minister her question.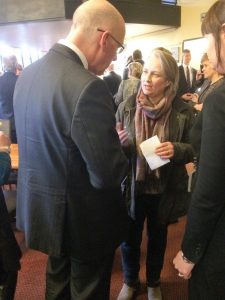 She wanted to know why the Scottish Government had not told Perth and Kinross Council to remove inaccurate data sharing guidance from their website, since they had removed it from their own. The Council made the excuse that the Scottish Government had not told them to remove it.
Mr Swinney argued that each local authority was an elected body that was autonomous in its decision-making – but Perth and Kinross Council don't seem to think so…! "Does the Information Commissioner's Office have the power to tell the Council to remove it?" Lesley then asked. The Deputy First Minister agreed to look into the matter, so we'll be keeping an eye on developments.
In the meantime, preparations are well underway for a major NO2NP event in Edinburgh on Monday 20th March, so make a note in your diaries now – more details to follow soon!