Blog
Keeping you up to date on the progress of the Named Person scheme and the NO2NP campaign.
Posted 8 years ago
A big thank you to all those who braved Storm Henry to come to the latest NO2NP roadshow event in Falkirk on Monday night!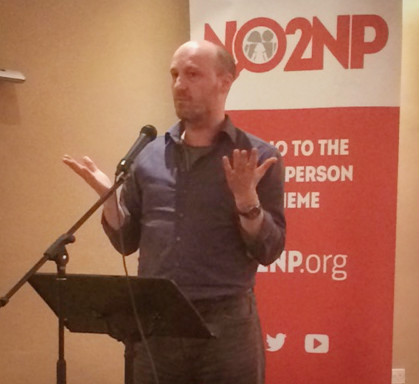 After Dr Stuart Waiton welcomed everyone, community paediatrician Dr Jenny Cunningham contended that children's rights should not trump parents' rights. "Parents are fully autonomous beings," she said, "able to make their own decisions, while children are not. The principle of parental autonomy is fundamental to a democratic society."
She went on to say that, far from respecting this parental autonomy, in recent years, social policy has seen parenting as "deficient" or "problematic" and there is a widespread consensus that the state has to intervene to address it.
Jenny emphasised that "there's a world of difference between parental behaviour that puts children at risk of significant harm" and parenting that doesn't fit the Government's expectations.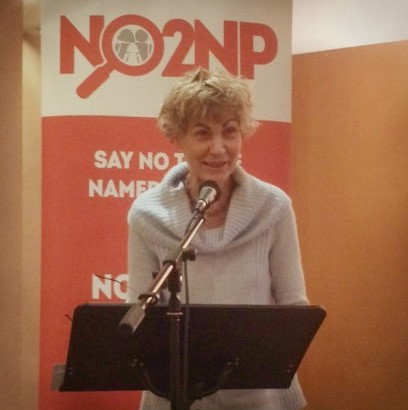 She said that "everything has been 'GIRFEC'ed" [GIRFEC is the Government's Getting It Right For Every Child framework] throughout health, education and social work. The legislation obligates all professionals to identify deficiencies in children's lives and make decisions about whether their wellbeing is threatened and this is clearly seen in the new Universal Health Visiting Pathway, which will be introduced this August.
Jenny finished by saying that parenting isn't a tick box list to be assessed by the state but a relationship between parent and child that grows at its own pace, as we are all individuals.
Lesley Scott from TYMES Trust then spoke about the recent decision of the Inner House of the Court of Session to reject our legal challenge. She quoted their use of the word "welfare" to describe the purpose of the legislation and showed how it is not interchangeable with "wellbeing", but fundamentally different.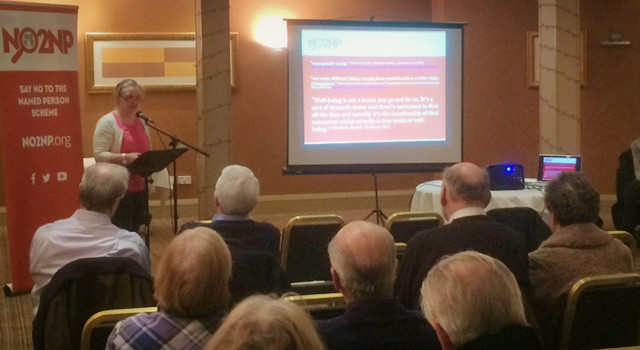 The Scottish Government has made this clear in their final statutory guidance, which states that "welfare and wellbeing are different, in that wellbeing is a broader, more holistic concept." Even First Minister Nicola Sturgeon seems to be unsure about the purpose of the legislation, as she has said it is "about making sure that we are doing everything in our power to protect vulnerable children". So, is it about child protection or children's wellbeing?
On further scrutiny of the guidance, Lesley argued, there is "a dangerous conflation of the two [ideas]", with the Information Commissioner's Office conceding that there was a "lowering of the trigger" for data sharing from risk of "significant harm" to threat to "wellbeing". This is confirmed in the guidance, which states that "a series of low level indicators of wellbeing need (whether obviously related or not) taken together can amount to a child protection issue".
Lesley went on to point out, chillingly, that the guidance "is clear on the ability of Named Persons to use compulsion against parents and families who show any degree of non-engagement, non-compliance or mere ambivalence in the face of state functionaries' opinions". She went on to refer to sinister "compulsory supervision orders" which the guidance encourages Named Persons to use "at an early stage…to ensure compliance".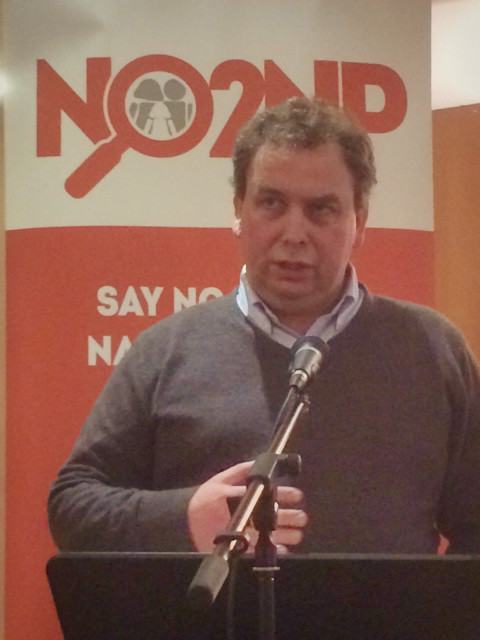 After a short video, CARE for Scotland's Parliamentary Officer Gordon Macdonald, gave an overview of the passage of the Bill through Holyrood, stressing that it was really only children's charities that were consulted and many of them tend to view families as potential problems. No consideration was given to religious liberty during the one morning given over to scrutinising the Bill, whose terms were applauded by the majority of the agencies invited to the session.
As a result, CARE and others involved in the NO2NP campaign, had no option but to go to court to seek to have the legislation overturned. Gordon suggested that the Court of Session had taken a "very optimistic view" of the legislation, but we were going to the Supreme Court in March and would, if necessary, go on to Strasbourg and Luxembourg, as the matter is so important.
Gordon concluded that there is a real risk of the scheme being operated in a "totalitarian" way, because individual children's rights are being viewed in isolation from – and at times in opposition to – their relationship with their parents.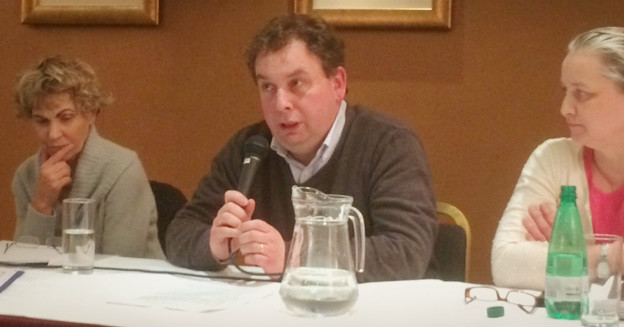 After some practical points were shared, there was an in depth Q&A, which brought out further revelations about the scheme, including that "wellbeing" was sometimes seen as whether children had sufficient "hope, love and spirituality" in their lives!
A dedicated group of volunteers will be in Falkirk's High Street on Saturday morning for our latest Action Day, handing out flyers to shoppers and encouraging them to sign the online petition – if you are free to join us, please email volunteers@no2np.org.