Blog
Keeping you up to date on the progress of the Named Person scheme and the NO2NP campaign.
Posted 8 years ago
A Children's Panel Member in Falkirk, which has been operating the 'Getting It Right For Every Child' (GIRFEC) approach for some time, has written to The Scotsman criticising the Named Person plans.
"My objections are as stated by many others, in the area of unnecessary state intervention into family life", wrote David Donaldson.
He continued: "On a practical note, most government department's administration is slow moving and woefully inefficient, with the obvious recent example of the police being unable to indicate numbers of stop and searches and blaming it on a "clunky' computer.
"What chance, therefore, is there of an effective system of monitoring every child in Scotland up to the age of 18?
Donaldson raised concern that families in crisis, which "require a speedy, effective response from the relevant services", will fall into the "black hole" of Government administration.
He said: "At present, Children's Hearings receive reports from and attendance by Social Services, health visitors, and teachers, along with many other organisations such as Barnardo's and Spark of Genius, as well as local ¬authority intensive crisis services.
"Many of these people who will be 'Named Persons' are already actively involved with families and doing excellent work. Families in crisis require a speedy, effective response from the relevant services but there is the real likelihood they will fall into the "black hole" that will be Government administration.
He asserted: "We do not need GIRFEC but what we do need is 'Get It Right For Every Vulnerable Child' and there are, unfortunately, still too many of them.
"If the Scottish Government has £40 million to invest it would be much better spent in bolstering the existing services which are often overstretched and swimming against the tide".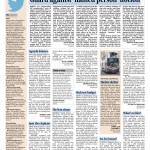 Source: Scotsman Letters: Guard against 'named person' notion, The Scotsman, 06 July 2015