Blog
Keeping you up to date on the progress of the Named Person scheme and the NO2NP campaign.
Posted 7 years ago
A dedicated group of NO2NP volunteers were in Stirling City Centre on Saturday morning. The group braved the cold – and the disruption of a fire alarm in the Thistle Shopping Centre – to hand out leaflets to shoppers, many of whom were unaware of the controversial state guardian scheme.
NO2NP had held a meeting in the Golden Lion Hotel on Tuesday night as part of our national roadshow and our volunteers found on Saturday that a sizeable majority of those they spoke to were opposed to the controversial scheme.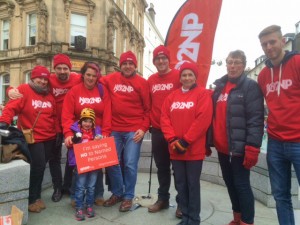 One campaigner remarked: "Regardless of where people stand politically, when they hear what the scheme will entail – intrusion into family life on a vast scale, with a data sharing free-for-all to go with it – they join us in saying no to this scheme, which is unwanted, uninvited and unnecessary."
The team secured dozens of signatures for our national petition, which can be found at no2np.org.