Blog
Keeping you up to date on the progress of the Named Person scheme and the NO2NP campaign.
Posted 7 years ago
The fair city of Perth was the latest destination for a NO2NP Action Day this weekend, where another group of local volunteers took the campaign's message to Saturday shoppers.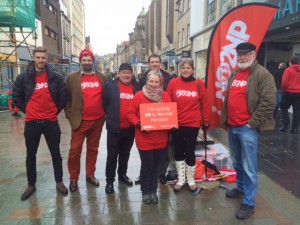 It was encouraging to find that a few people already knew about the campaign and had signed the petition, but time and time again, those who were unaware of the scheme were appalled by it. One gentleman said "it'll blow up in their faces – who will watch the watchers?", while a young mum described it as "intrusive".
A number of shoppers were happy to be photographed after signing the petition, which was great – thanks, everyone!
Teachers that we spoke to were opposed to the scheme, with one of them saying that they were not trained to be Named Persons, but teachers, so they should be allowed to teach – not become state guardians.
Another couple who signed the petition were appalled to learn that, as grandparents, they were "associated adults" of their grandchildren, with the possibility that personal data about them could easily be shared with several agencies without their knowledge or consent.
And one lady offered to become a NO2NP volunteer! Is this becoming a trend of our Action Days?!?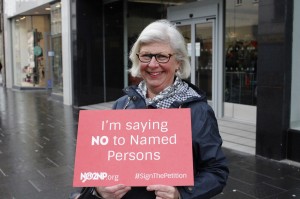 The NO2NP Roadshow is taking a break for a week but will be in Aberdeen at Skene House, Rosemount Viaduct on Monday 29th February at 7.30pm – we hope to see a good turnout of local supporters then!