Blog
Keeping you up to date on the progress of the Named Person scheme and the NO2NP campaign.
Posted 8 years ago
A number of Scotland's health boards have admitted to a severe shortage of sufficiently trained health visitors, raising serious questions over the Named Person scheme – due to be rolled out next year.
Under the scheme health visitors will act as a Named Person for 0–5s, but one of Scotland's biggest health boards, NHS Lothian, said it was so short-staffed that each health visitor would be a Named Person for up to 350 children.
A report by Sally Egan, NHS Lothian associate director of strategic planning, states: "There is a national shortage of qualified health visitors and an extensive training programme is under way across all NHS boards.
"Despite best efforts, NHS Lothian will not have trained sufficient health visitors by 2016 and will not be at full health visitor capacity until 2018/19 at the earliest."
NHS Grampian conceded it had to deal with an "initial shortfall" of health visitors, and NHS Greater Glasgow and Clyde said it was "ongoing" in its training and recruitment of extra staff.
NO2NP's Simon Calvert, commenting on NHS Lothian, said, it "doesn't have the resources to meet the huge demands of the law which requires a Named Person to monitor every single child. That's a big job. Too big. The scheme is doomed to fail – and doomed to ruin some families' lives in the process".
The Scottish Government's £41.6 million Universal Health Visiting Pathway in Scotland: Pre-Birth to Pre-School programme released in October sets out plans for health visitors to make 11 home visits in the first 4-5 years of a child's life – with some visits lasting up to 90 minutes.
Health visitors are expected to monitor not just the health and development of a baby, but also a range of personal details about their parents, including finances and mental health.
One wonders how the Scottish Government expects our NHS to manage the vast extra workload created by the Named Person scheme when they are already overburdened.
A Mail on Sunday comment piece said the scheme is "in crisis a year before its planned implementation", asserting: "Rather than making vulnerable children safer, the situation will overburden a health service already stretched to breaking point."
It said that the Named Person legislation "smacks of politicians doing something for the sake of doing something rather than because it is right".
The newspaper warned: "There are systems in place to identify children at risk of abuse and neglect. Demanding that NHS, social work and school staff spread themselves more thinly by snooping on children who are perfectly healthy and happy makes no sense whatsoever and may do more damage than good."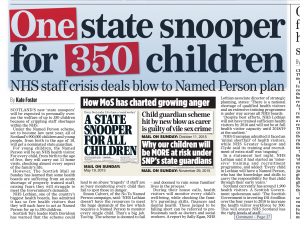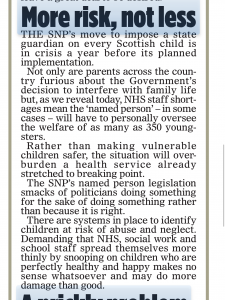 Posted 8 years ago
A mother has been warned by medical staff that she could have been referred to a Named Person for giving her son what was deemed a safe dose of cough medicine.
In a letter to The Scotsman she said even though paediatric nurses told her that her son was fine, and the dose was well within limit, she was warned, "never, ever do this again. We would have had to refer you for investigation under the new Named Person laws".
She wrote to the newspaper to express her concern about the scheme.
She explained: "When I was ill as child my mother halved aspirins and mashed them with honey, and doled out quarter-spoons of adult cough syrup. She took pains with medicine. We all survived.
"Some weeks back, I did the same. At 2am, I'd given my toddler a quarter-measure of adult cough syrup (I'd run out of baby syrup). Immediately, I regretted it, panicked and drove my son to A&E at the Borders General Hospital in Melrose, fearing a paracetamol overdose.
"'He's fine', the paediatric nurses told me. 'The dose was well within limit.' But, they said, never, ever do this again. 'We would have had to refer you for investigation under the new Named Person laws,' they warned me, carefully".
She said: "The idea I might now 'face investigation' or scrutiny over a safe dose of cough syrup? It horrifies me. Parents must be made aware of what the Named Person policy means. It means state surveillance of us as parents.
"Parents, not the state, are best placed to bring up their children", she concluded.
Letter to The Scotsman submitted by: C Sharwood-Smith, Kirk Yetholm
Posted 9 years ago
THE parents of children who miss their appointments at hospital are already being reported to state guardians.
Doctors have told them they are "now required" to act as informants for a child's government-sanctioned "named person", two years before the controversial legislation comes into effect.
CLICK HERE TO READ THE FULL STORY ON THE DAILY EXPRESS WEBSITE