Blog
Keeping you up to date on the progress of the Named Person scheme and the NO2NP campaign.
Posted 6 years ago
A health board has agreed to remove a leaflet which could have led to unlawful data-sharing following the Named Person Supreme Court judgment.
The leaflet was spotted by a parent who contacted NO2NP stalwart Lesley Scott of Tymes Trust. She wrote to NHS Tayside to ask for the leaflet to be withdrawn.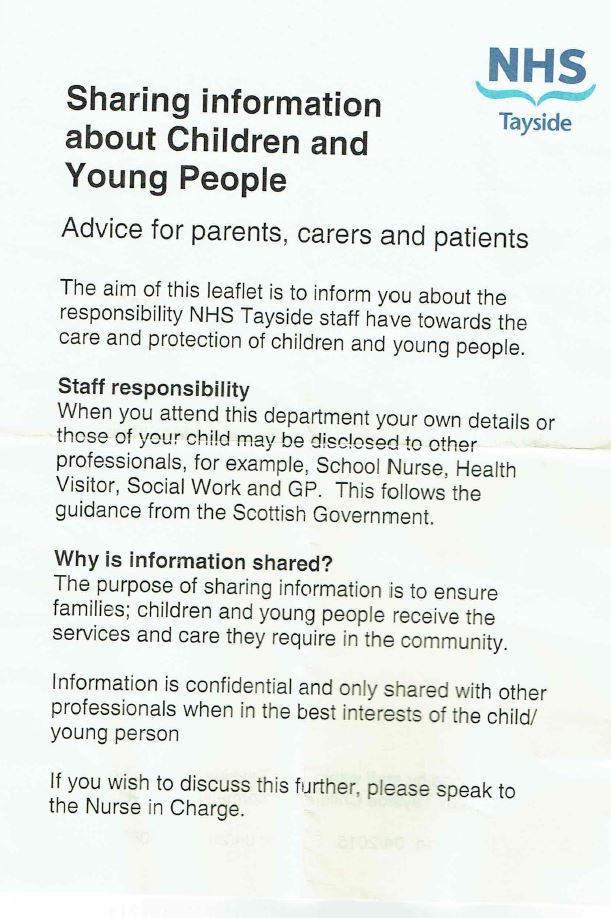 Parents were being handed the leaflet at Accident and Emergency departments in the area.
It said:
"When you attend this department your own details or those of your child may be disclosed to other professionals, for example, School Nurse, Health Visitor, Social Work and GP. This follows the guidance from the Scottish Government."
When the Supreme Court judges struck down the data-sharing provisions at the centre of the Named Person scheme, they ruled that routine sharing of confidential information breached the right to privacy.
 
Despite encouraging routine data-sharing, the Scottish Government has denied local authorities have acted unlawfully.
But as The Courier said in an editorial responding to this case:
"The Scottish Government has insisted the Supreme Court judgement 'does not relate to current practice in relation to information sharing'. It had best keep its fingers crossed because NHS Tayside's move casts doubt over this statement."
Mrs Scott has called on the Deputy First Minister to review Named Person pilot schemes.
 
Chief Executive of NHS Tayside Lesley McLay responded to Mrs Scott's concerns and agreed to withdraw the leaflet and review its data-sharing policy.
 
Mrs Scott said: "I am delighted NHS Tayside did the right thing. But many other health and local authorities may be operating similar schemes which have the potential to breach data protection laws."
 
Commenting on the Deputy First Minister's refusal to review Named Person pilot schemes, she said: "He has stubbornly maintained the named person pilot schemes currently operating across the country are unaffected by the ruling from the UK Supreme Court. The problem Mr Swinney has is that current practice includes those very elements that the UK Supreme Court found to be in breach of Article 8."
 
Simon Calvert NO2NP spokesman said: "The Scottish Government has spent years encouraging a cavalier attitude to family privacy. Now they've been stopped in their tracks by the Supreme Court, it is really up to them to make sure all public bodies are revising their policies and practices to comply with the court ruling."
Take action
If you're a parent be vigilant and take note of leaflets and information you are being given by those working with your children. If they don't refer to the Data Protection Act and Human Rights Act they may be encouraging unlawful sharing of your family's personal information.
You can write to the relevant authority to ask for materials to be withdrawn or if you have questions about a leaflet, email a copy to admin@no2np.org.