Blog
Keeping you up to date on the progress of the Named Person scheme and the NO2NP campaign.
Posted 5 years ago
The UK Supreme Court back in July struck down the information-sharing provisions at the heart of the Named Person scheme.
The five judges concluded: "since the defective provisions are not within the legislative competence of the Parliament, they cannot be brought into force" [para.109].
This effectively halted the Named Person scheme and sent the Scottish Government back to the legislative drawing board.
So, how come many councils are still telling parents their children have Named Persons?
Good question.
We asked NO2NP spokesman Simon Calvert to shed some light.
He said:
"Local authorities and health boards are continuing to implement a non-statutory form of the Named Person, as instructed by the Scottish Government.
"However, thankfully, these Named Persons do not have the statutory snooping powers that the Government wanted, since those powers were struck down by the Supreme Court for breaching privacy law.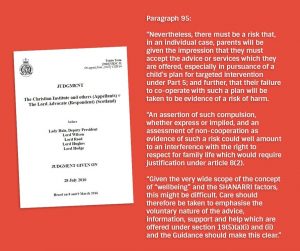 "These non-statutory Named Persons are also under an obligation to make clear that any services or advice they offer to families is purely voluntary.
"We are concerned some authorities and health boards may not have understood the impact of the Supreme Court ruling on information sharing. We are encouraging parents to submit Data Subject Access Requests to find out what information is being shared about their families. This way they can assess whether Named Persons are complying with the law on data protection and privacy.
"Thanks to the court ruling, parents can also notify health and education authorities that they do not wish to engage with the Named Person service and this 'non-engagement' should not be treated as a 'risk factor' by the authority.
"Families may also wish to make clear that their consent must be sought if the Named Person wishes to obtain or share any private information on them or their children. Of course, this does not apply if there are any child protection issues, which is covered by existing law and nothing to do with the Named Person scheme."