Blog
Keeping you up to date on the progress of the Named Person scheme and the NO2NP campaign.
Posted 5 years ago
A former President of secondary headteachers' association School Leaders Scotland has warned that the Named Persons legislation will "diminish the time and attention paid to those children who need it the most".
In a letter to The Scotsman published today, retired headteacher Carole Ford said that while she supported a single point of contact for vulnerable children, she was concerned that giving a Named Person to every child in Scotland would spread resources dangerously thin.
She wrote: "For the most vulnerable children, the involvement of a plethora of individuals and agencies, all with varying aims and agendas, has always been a barrier to effective action.
"For years I personally called for a single individual to have both the power and the responsibility to take the necessary steps for any one child in difficulty – in essence, a substitute for parental involvement which was often seriously lacking. This was in the face of repeated reports calling for co-operation and communication between agencies, despite years of evidence that multi-agency working was largely ineffectual."
But, explaining why she does not welcome the Named Person legislation, Ford wrote: "For the vast majority of children this is a completely unnecessary interference with parental rights. Worse, it actually diminishes parental responsibility for a child's welfare, a direction of travel no sensible society would follow. But, utterly crucially, it will simply diminish the time and attention paid to those children who need it the most."
She warned: "By spreading the named person resource across all children, most of whom have absolutely no need of it, rather than just those identified as vulnerable, the impact will be so thin as to be negligible. A named person should be identified only for those children who need it."
Ford ended by calling on the Scottish Government to think again on the issue and warned: "Delivering sound bite policies will do nothing for vulnerable children."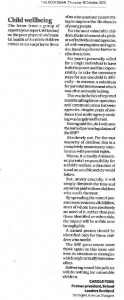 Posted 5 years ago
Kids aged four will be asked if they can ride a bike under the Government's latest attempts to measure 'wellbeing'.
Officials will use this question as a way to monitor if parents are bringing up their children in line with the Government's 'wellbeing indicators'. Named Persons must ensure that parents are meeting the state's GIRFEC (Getting It Right For Every Child) targets.
But whatever you may think about cycling, why is it the business of the Government to enquire whether your four-year-old can ride a bike?
While many children may enjoy riding their bike, others will prefer swimming or football.
A NO2NP spokesman commented: "What if the child is a great swimmer but can't ride a bike? Parenting approaches are as unique as a fingerprint, and they have to be, because every child is different."
He said: "This kind of rigid, indicator-based assessment of parenting is typical of the Named Person scheme's tickbox approach."
Anne-Marie O'Leary of parenting website Netmums said: "Children do things when they are ready and there is no right age to be able to ride a bike."
In defence, Cycling Scotland's Keith Irving said: "Cycling is an essential life skill that all children should have the opportunity to learn and enjoy at school as well as at home."