Blog
Keeping you up to date on the progress of the Named Person scheme and the NO2NP campaign.
Posted 6 years ago
The roadshow team returned to the west of Scotland on Wednesday evening, when they held a well-attended meeting in Coatbridge. A good number of younger folk turned up for this one, including some secondary school children, who will of course all be assigned a Named Person.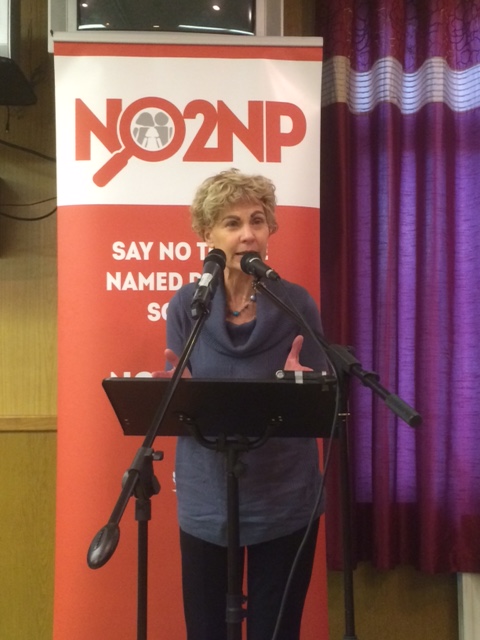 Dr Jenny Cunningham, a local community paediatrician, challenged the First Minister's contention that parents aren't obliged to engage with the Named Person. She explained that the legislation makes it mandatory for every child to have a 'state guardian', and that children's wellbeing will be "promoted, supported and safeguarded", regardless.
Jenny went on to say that supporters of the scheme argue it's about wellbeing, not child protection, yet when they are criticised, they always cite child protection as the reason why the scheme is necessary and accuse us of being against that! "Parental rights should not be treated so casually or dismissively" she went on. "They are one of the fundamental protections against state authority and tyranny over families – they're the mark of a free society."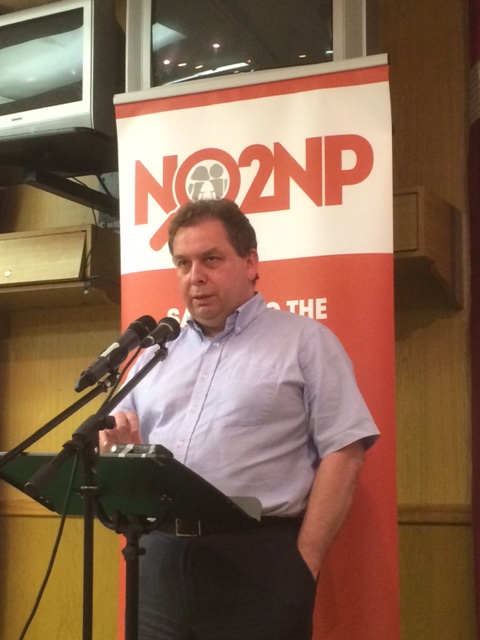 Gordon Macdonald from CARE for Scotland then summarized why NO2NP is opposed to the Named Person scheme: it's universal, not "opt in" (indeed, there are no opt outs); it conflates welfare issues (risk of significant harm) with vague "wellbeing concerns"; and there are very broad data sharing powers, which don't require the consent of the parent. Indeed, Named Persons are discouraged from raising the issue of consent with parents, in case it damages trust between them! Just keep them in the dark, then?!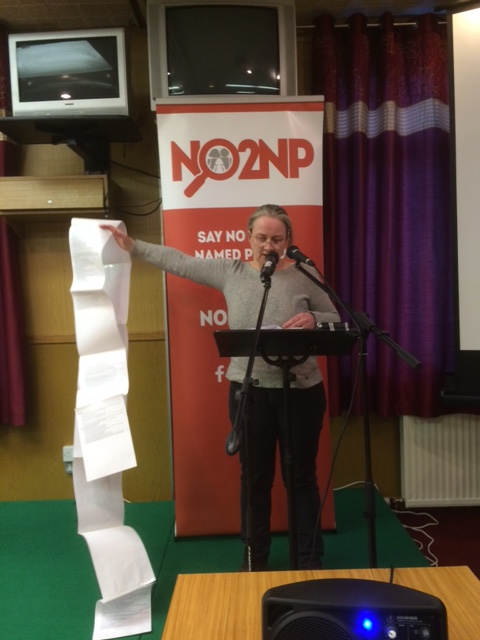 Next up was Lesley Scott from TYMES Trust, who took everyone through the detailed blueprint of young children's lives that the Named Person will monitor with a view to ascertaining if any of the Government's 222 risk indicators apply and whether the child should be put on a Child's Plan, with the possibility of Compulsory Supervision Orders.
Lesley finished by saying: "The Named Person is not an entitlement; it is not simply a single point of contact. It employs a corruption of children's rights to empower the state against parents, fatally undermining the autonomy of the family and handing the state free rein to intervene in family life whenever it feels it to be appropriate."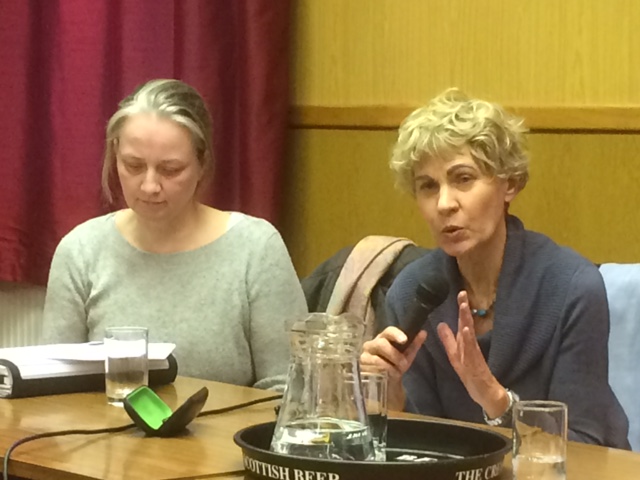 There was an excellent Q&A at the end, when people asked who was going to monitor Named Persons' activities (nothing seems to be in place for this, beyond a complaints procedure). A social worker spoke eloquently about his opposition to the scheme and said that many of his colleagues would also speak out, but were fearful for their careers if they did.
A good number of folk signed up as NO2NP volunteers and others were happy to share their views with our cameraman – watch out for our vox pop video coming soon!
Posted 6 years ago
The NO2NP Roadshow team has been really busy over the past week or so, clocking up three events in eight days (plus a great Action Day in between – more about that later in the week!). We've been responding to demand from various parts of the country to hold roadshow events in their area, so here's a taste of what happened at these three venues:-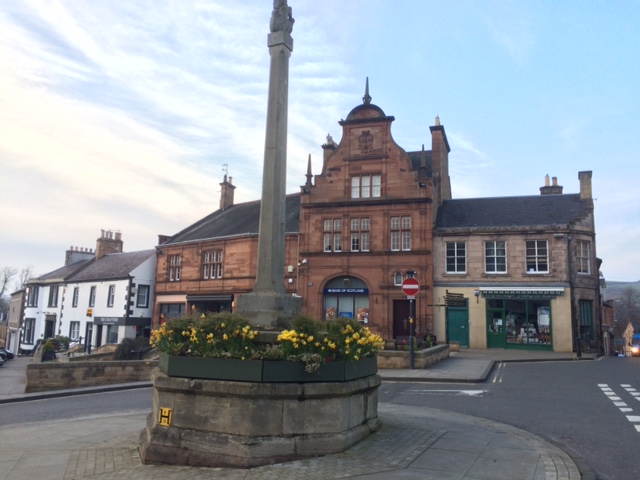 Melrose
Their first stop was the picturesque Borders town of Melrose on Monday night last week, when a good number of locals turned up to hear from the team.
Gordon Macdonald, Parliamentary Officer for CARE for Scotland, spoke about the reasons for the NO2NP campaign and referred to comments made online by Jim Terras, a Scottish Borders Council Training and Development Officer for Child Protection. Terras had remarked that he didn't think the Government should be basing their opinions on the views of "fringe groups" opposed to the Named Person scheme, "who don't really represent the general public".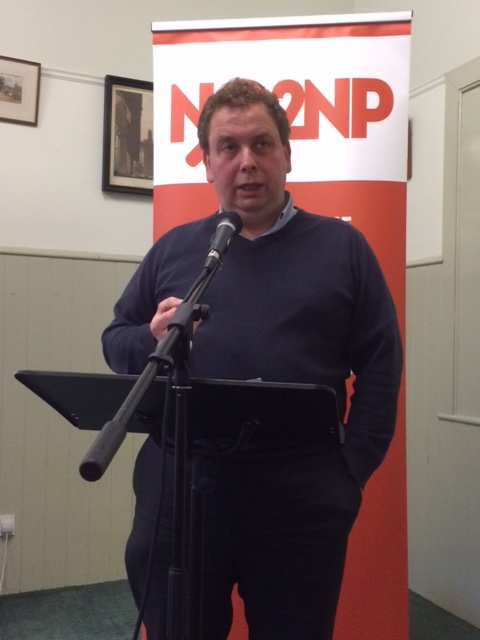 Gordon went on to point out that in a recent ComRes Poll, 64% of the Scots polled considered that the scheme was "unduly intrusive" into family life and 80% considered that the focus of child protection resources should be on truly vulnerable children and not every child.
We were then delighted to welcome Professor John Raven from Edinburgh to speak about his 50 years of academic experience in the areas of family, education and sociology. He said that parents are children's most important educators in terms of instilling all the most important values in life, so having a Named Person to dictate what this should look like was quite wrong.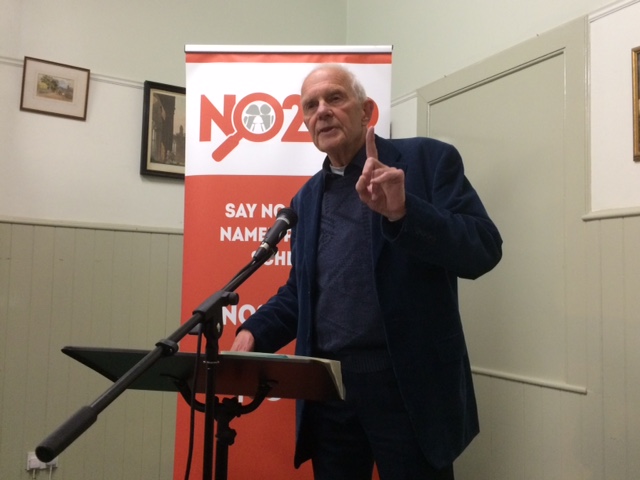 One of the things the Professor had noticed over his long career was the deprofessionalization of teachers, doctors and social workers by Government, who have increasingly imposed their own agenda on these professions. And now even parenting has been "deprofessionalized" under this scheme – in line with what is happening across society.
There was a lively Q&A, during which one mum asked the moving question: "Do the same people who failed my children so abysmally now think they can tell me they know better?"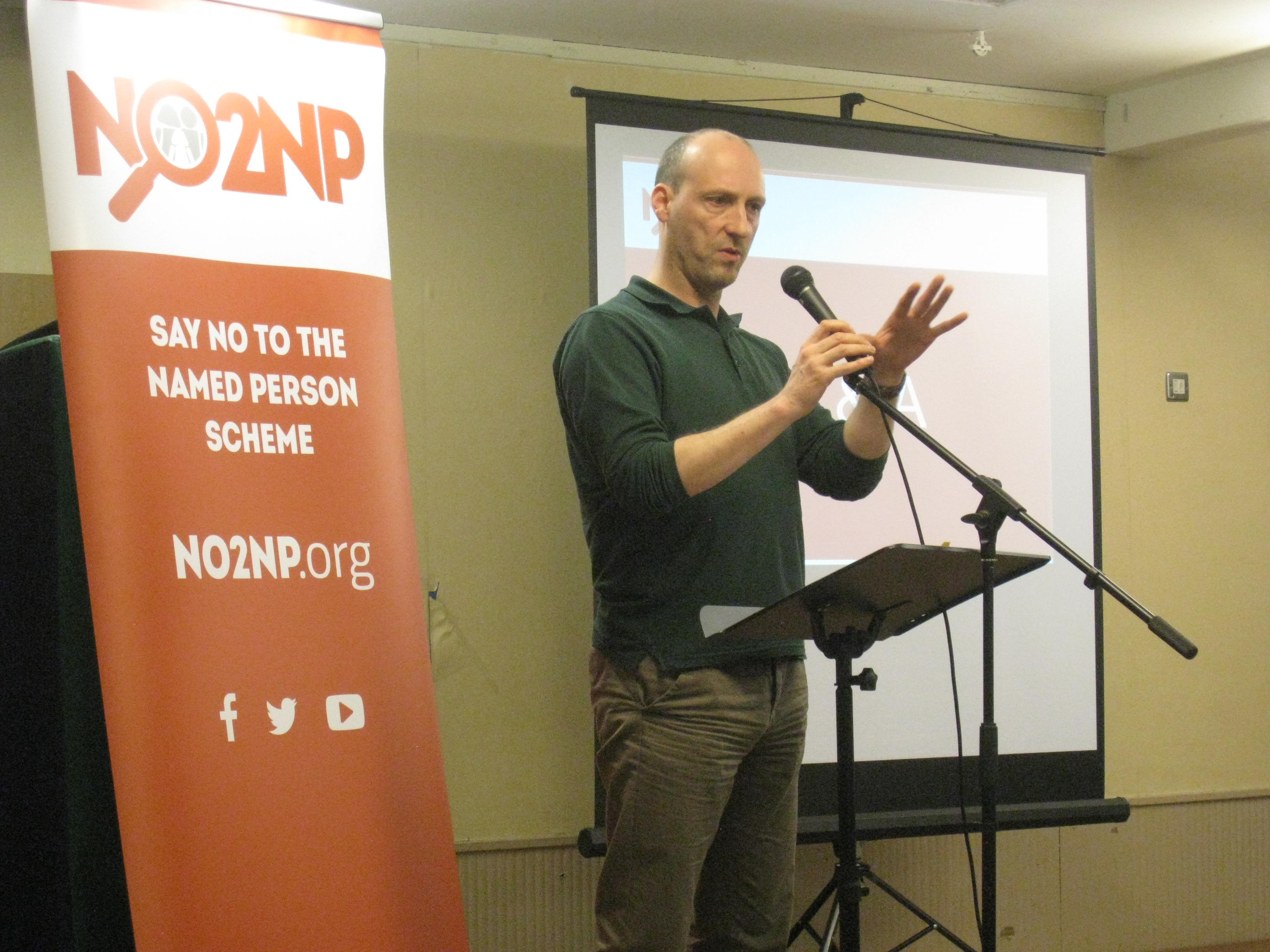 Broughty Ferry
The team's next stop was Broughty Ferry last Friday to address a packed meeting at the town's YMCA.
The meeting was chaired by Dr Stuart Waiton, a Sociology lecturer from Abertay University, who recently said that Tayside had some of the strongest opposition to the Named Person scheme. The passionate audience certainly had plenty to say, with one lady asking "What about the really vulnerable children? What will happen to them? They'll go right down the list and be lost in the process!"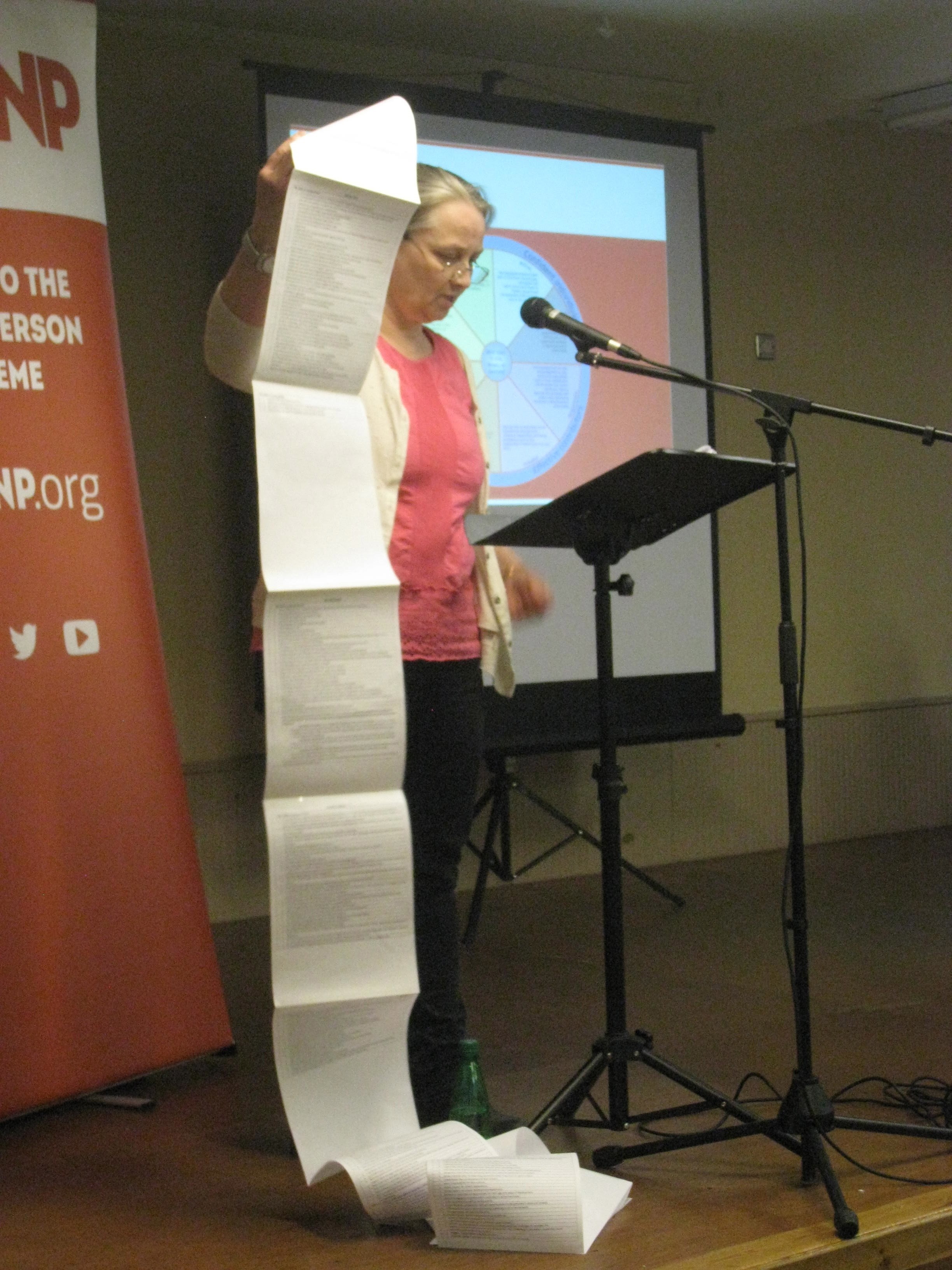 Lesley Scott from TYMES Trust set out how the Universal Health Visiting Pathway, due to be introduced on 31 August, will be a massive invasion of privacy for every young family in Scotland. A huge amount of sensitive information will be shared about their personal details, all intended to "promote, support and safeguard" the wellbeing of every child. However, the term "wellbeing" is nowhere defined in either the legislation or the guidance. This point was made in a video clip Lesley showed from a Holyrood debate last year, where an MSP in favour of Named Persons refused to answer a question about the definition of wellbeing, but instead ridiculed his colleague for asking the question.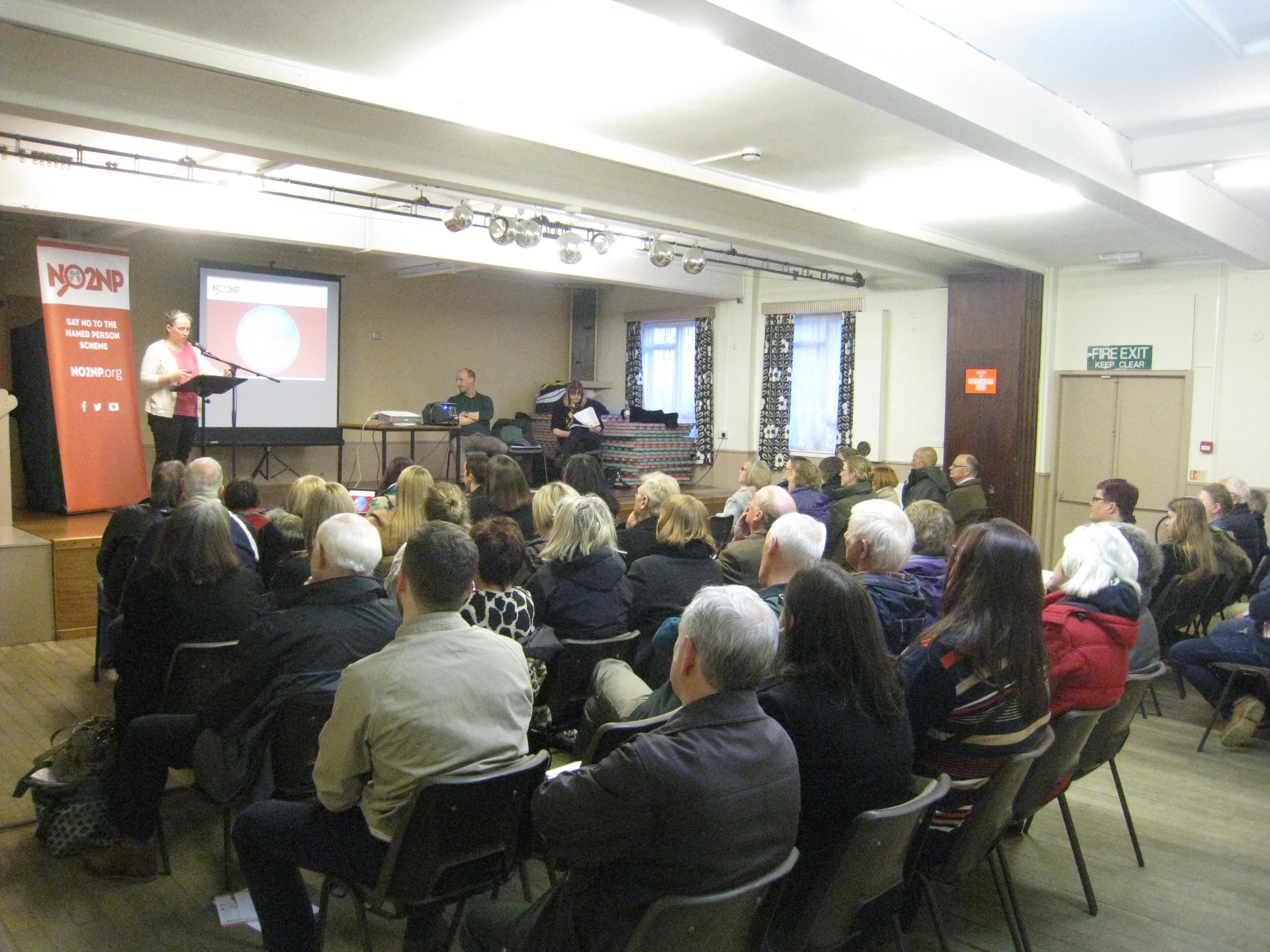 Lesley finished by saying: "Intervention is no longer about whether a child is at risk of significant harm, but rather whether the child is progressing in a manner the state regards as acceptable towards meeting outcomes set by the state."
Alison Preuss from the Scottish Home Education Forum spoke about her background in elective home education and her experience in challenging breach of privacy law in various government schemes over the years.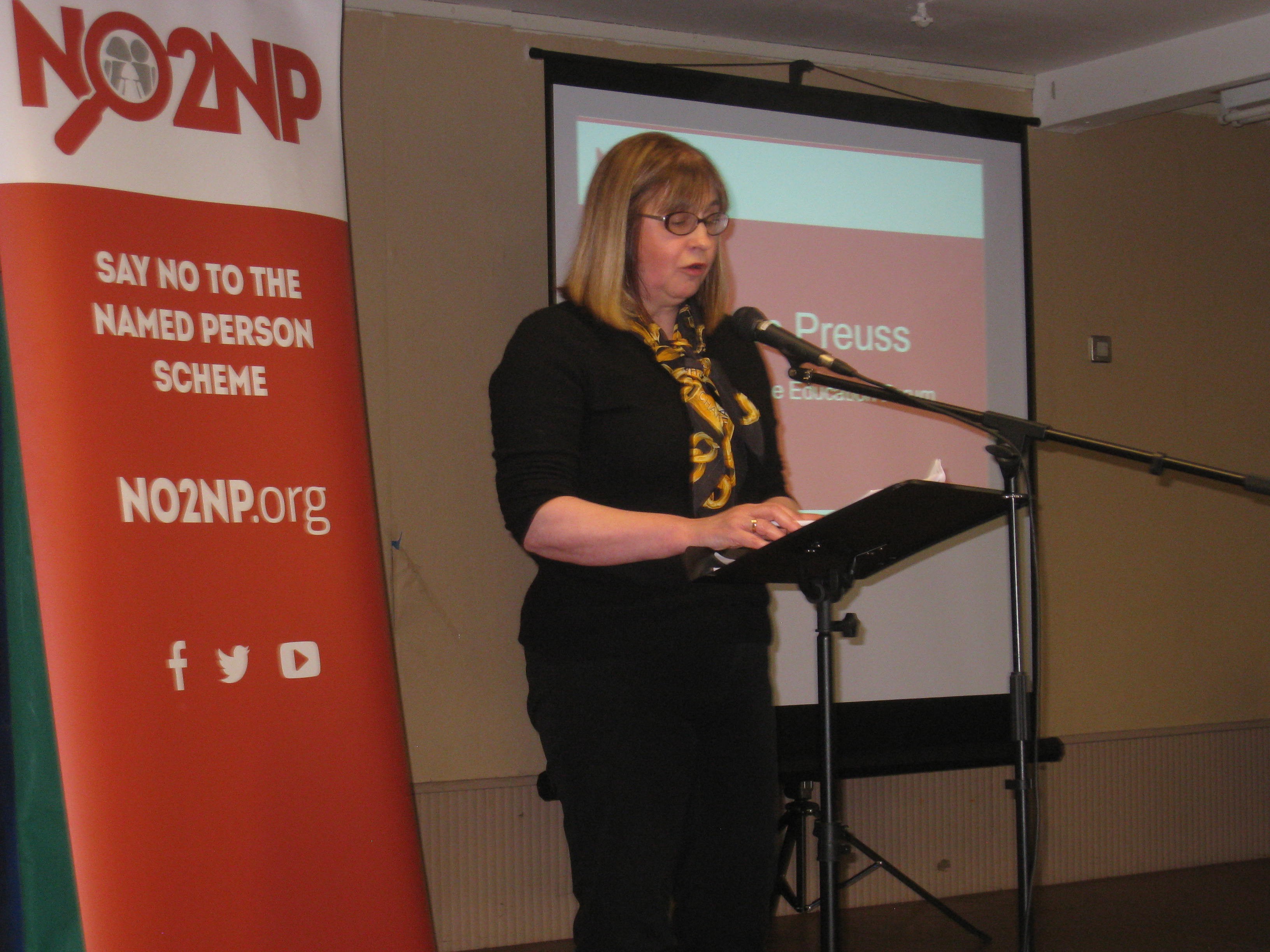 She made reference to the GIRFEC Cluedo article that appeared in the press recently. The aim of the game (used in training) is to get professionals to determine parents' capacity to provide "wellbeing" by data mining without consent "at even the lowest level of concern", as opposed to on child protection grounds. Alison went on: "Privacy is being systematically demolished on the basis of mere suspicion, allowing the state to call up a single view of any citizen at the click of a mouse, to more easily identify those of us in need of remediation".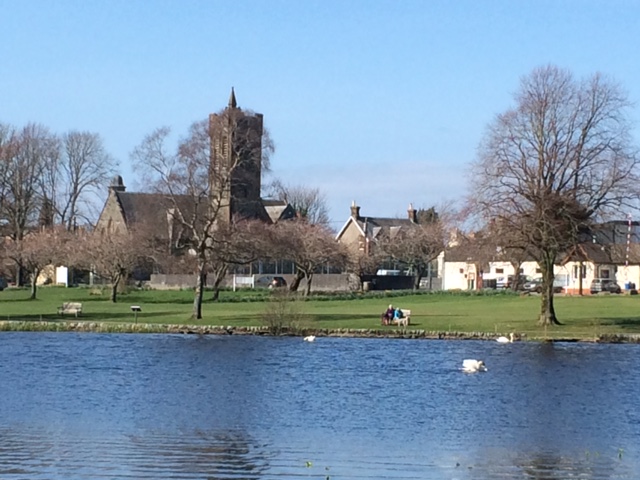 Castle Douglas
Then on Monday this week, the team traveled south to Castle Douglas, at the heart of scenic Dumfries and Galloway. The Christian Institute's Nigel Kenny explained that one of the ways the Scottish Government planned to 'teach' young children the principles of "wellbeing" was by way of a snakes and ladders type game called On the Trail with the Wellbeing Snail.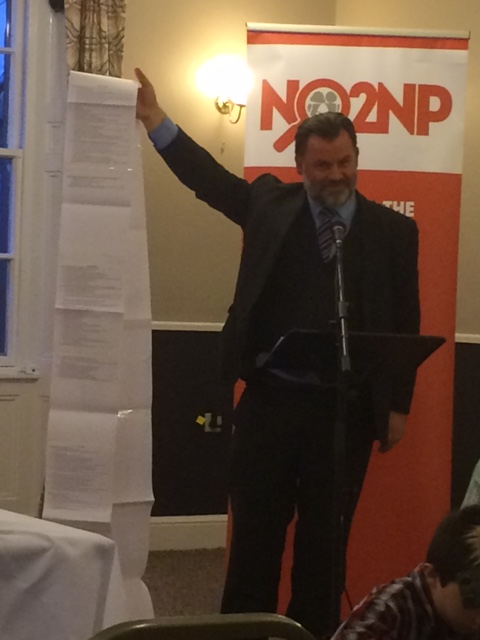 When Nigel explained that one of the cards for the game said that if you did not join the new after-school fencing club, you had to move back two spaces, one member of the audience asked us if we were making this up?! Not so, sadly. Others from the team mentioned the SHANARRI song and the GIRFEC Cluedo tool referred to earlier. The audience couldn't believe that this was really happening! Nigel also pointed out that every named person would have to watch out for 222 risk indicators in each child or young person under their watch, which included: being under 5 years old, limited engagement by the parents and the parent having a different perception of the problem!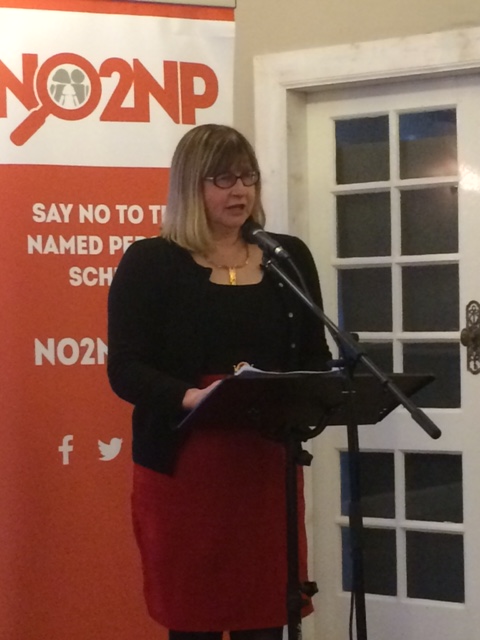 Alison Preuss said the acronym GIRFEC should really stand for Getting Information Recorded for Every Citizen. She pointed out that the principle of Named Persons was about being able to share sensitive data without the consent or even knowledge of the parents.
She highlighted datasharing concerns raised by a former UK Information Commissioner, Richard Thomas CBE, about an abandoned scheme similar to Named Persons, called ContactPoint. He said: "There are reasons why we need to promote better information sharing where children are at risk of harm, but whether the answer is to database every child in the country should be seriously questioned."
Alison finished by quoting former US President Lyndon B Johnson, who once said: "You do not examine legislation in the light of the benefits it will convey if properly administered, but in the light of the wrongs it would do and the harms it would cause if improperly administered." The Scottish Government failed to observe this principle, but NO2NP has been holding them to account throughout our campaign, highlighting the numerous problems with the legislation.
The NO2NP Team will be in Coatbridge on Wednesday next week. If you can join us, we look forward to meeting you!