Blog
Keeping you up to date on the progress of the Named Person scheme and the NO2NP campaign.
Posted 8 years ago
The Scottish Government is offering parents a £25 gift voucher, transport costs and free refreshments if they attend an event to find out how the Named Person scheme will work.
Parents will even be offered free childcare during the event.
The Scottish Government has been criticised for trying to buy public approval of the controversial scheme.
Organisers have hired Hampden for the planned event on 20th June.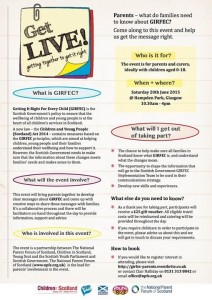 A NO2NP spokesman commented: "Having lost the argument over their Big Brother plans in the court of public opinion we now find ourselves confronted with a Scottish Government attempting to buy approval for their discredited state guardian scheme."
He added: "They can dress it up any way they like by calling it an information exercise or an advice session providing guidance for families.
"But the bottom line is that they are now using public funds in an effort to secure approval with this rather cynical attempt to bribe people into supporting the GIRFEC principles which underpin the Named Person proposals.
"Surely the money would be far better spent on funding social workers who are actually working with vulnerable children and needy families.
"No Government should be using taxpayers money in this way to try to buy support for their policies. Especially not one as unpopular and intrusive as the Named Person scheme."