Blog
Keeping you up to date on the progress of the Named Person scheme and the NO2NP campaign.
Posted 7 years ago
The Scottish Government has published 'Top ten Named Person facts' on its website. The first of these ten 'facts' says the Named Person 'does not undermine families' and "will not interfere in how a child's room is decorated" or "the TV programmes they watch".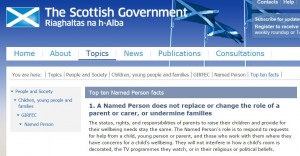 But if this is true, then why does the Government's GIRFEC leaflet tell parents the Named Person will check if a child "gets a say in things like how their room is decorated and what to watch on TV"…?
Read the full GIRFEC leaflet here