Blog
Keeping you up to date on the progress of the Named Person scheme and the NO2NP campaign.
Posted 7 years ago
The latest stop for the NO2NP Roadshow on Tuesday night was the Pitbauchlie House Hotel in Dunfermline, where a good number of local folk came out to listen to our panel of speakers share their concerns about the scheme.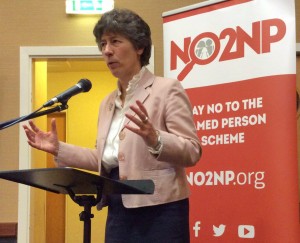 Fresh from a Holyrood debate, Mid Scotland and Fife MSP Liz Smith opened the evening's talks by saying that she has never had as large a mailbag in her time as an MSP than on this issue. She said her opposition to the scheme was based on two fundamental objections: firstly, it is quite simply wrong to undermine parents with a universal scheme like this; and secondly, the fact that it will inevitably take away scarce resources from truly vulnerable children is quite simply inexcusable. The expense of the scheme across Scotland will be huge, she continued, and added that "the more people learn what is being demanded of families, the more they are in open rebellion against it."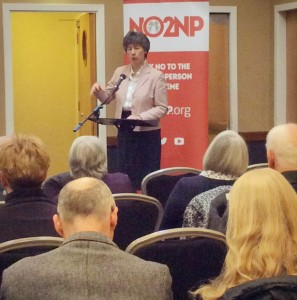 Liz then explained the passage of the Children and Young People (Scotland) Bill through Parliament and, while she had proposed around 40 amendments to it, Labour MSPs only supported her amendment to reduce the upper age limit for Named Persons from 18 down to 16. The SNP had whipped their MSPs to vote against all amendments, so they narrowly defeated that particular amendment by their Parliamentary majority. Despite having enthusiastically voted for the Named Person scheme, the MSPs in favour of it have now "gone very quiet", she said.
The full extent of its reach into families is only now becoming apparent, as schools and health visitors are starting to explain its ramifications. Liz finished by saying that the scheme was "dangerous, really dangerous" and urged everyone to spread the message of the NO2NP campaign as much as they could.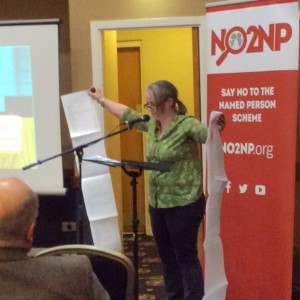 Next up was Lesley Scott from TYMES Trust, who said there seemed to be some confusion in the minds of the judges who heard the appeal of our Judicial Review last September. They had said in their judgment that 'A Named Person is not assigned to a child or young person as such but "made available, in relation to" him or her.' This statement, Lesley explained, carries the inference that the Named Person "provision" represents one-way traffic, that it is always parents and families who will approach the Named Person for assistance and support if they need it; however, during a discussion about the scheme on Radio Scotland's Kaye Adams Programme last October, a teacher who is already a Named Person in Highland stated that "absolutely" she can "be pro-active" and go to each family. When challenged about what she would do if a family did not want her involvement, she replied "then it would be my job to convince them that I'm there to help, that we were working together as a unit."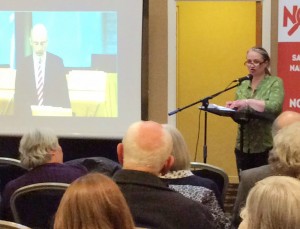 Lesley went on to say that, while there is no accepted, universally used definition of 'wellbeing', if the Named Person's statutory duties hinge upon assessing it, questions must arise over which definition will be used in practice. She then showed a video clip of an exchange in a recent Holyrood debate, where SNP MSP Stewart Maxwell was challenged to define 'wellbeing', but simply ridiculed the question and did not give any kind of answer!
To highlight the difficulty, Lesley said that "researchers in the field of 'wellbeing' concede that 'it is a contested concept' with 'a wide variety of definitions'". Yet, she went on, wellbeing is now the 'measure' by which we are all being judged and if found wanting we "can expect intervention from the state."
Gordon Macdonald from CARE then summarised the campaign's three main objections to the Named Person scheme: it is universal and not in any way either optional or focussed on truly vulnerable children; the concepts of welfare and wellbeing are conflated, so that the scheme is about far more than identifying and helping vulnerable children; and the current threshold for sharing data without consent has been lowered from "strictly necessary" to "appropriate to fulfil the Named Person's responsibilities".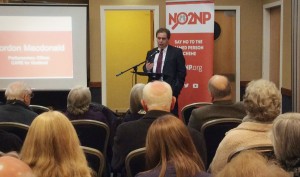 Gordon went on to explain how the legislation had been an attempt to enshrine the principles of the United Nations Charter on the Rights of the Child (UNCRC), but that this had been done in a very selective way that omitted reference to the importance of parents and families for a child's wellbeing.
Gordon went on to say that the fact the final Bill had been a joining of a children's services bill and a children's rights bill was reflected in things like the SHANARRI indicators, where child protection issues (Safe, Healthy) were conflated with children's rights issues (Respected, Included) and general wellbeing issues (Achieving, Nurtured, Active, Responsible).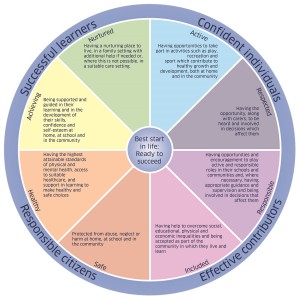 Nigel Kenny from The Christian Institute then shared some practical points, before an in depth Q&A, where mothers in the audience expressed outrage that this was happening and that parents were basically being kept in the dark about the true nature of the intrusive scheme. Several people signed up to be volunteers and we already have commitments to deliver thousands of NO2NP flyers around Dunfermline to get the message out. Thanks to everyone for helping us in this way!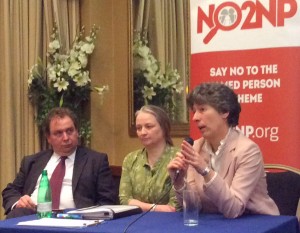 Some of these volunteers will be in Dunfermline town centre this Saturday to encourage local folk to sign the online petition – if you live in the area and would like to join them, get in touch with us on volunteers@no2np.org