Blog
Keeping you up to date on the progress of the Named Person scheme and the NO2NP campaign.
Posted 7 years ago
Crieff in West Perthshire was the latest stop for the NO2NP roadshow on Monday night and a good number turned out at the town's Strathearn Artspace.
First up was Liz Smith MSP, Shadow Cabinet Secretary for Education, who explained why she had found the majority of Scottish parents to be against the Named Person scheme.
"It's a question of trust", she said – among professionals, and between them and families – the Named Person scheme is damaging to both. It has been imposed upon families, so that every professional who is a Named Person has a legal obligation to "safeguard the wellbeing" of every child under their care. They are no longer simply supporting parents but monitoring them, with the children of any parents deemed to be "non-engaging" being seen as "at risk". "There is a real, deep-seated worry about the situation where the Named Person and parents disagree", Liz said.
Likewise with data sharing, professionals are concerned as to how people will be able to trust them if they are obliged to share data with any number of others without knowledge or consent. Liz said that the issue has been at the top of her email list of concerns over the past two years.
She finished by highlighting how Jenny Laing of Aberdeen City Council and Greg Dempster of the Association of Headteachers and Deputes in Scotland have warned that it will deter people from applying for promoted positions in teaching.
Next came Lesley Scott from TYMES Trust. She said that Named Persons are required by law to monitor the wellbeing of every child from 0-18. This involves their subjective judgements around the SHANARRI indicators but, she said, "SHANARRI is not a definition of wellbeing. There is no definition of wellbeing."
But this hasn't stopped practitioners starting to trawl for wellbeing information on children and their families. What used to be obtained through regular interactions based upon trust and consent has now been corrupted by a process that requires neither the consent nor the knowledge of the individuals involved.
Lesley explained some of the tools Named Persons are using for gathering information on each child, including the 'Wellbeing wheel'.
There were audible gasps when Lesley produced the list of 304 additional "outcome signifiers" used to assess every child's 'wellbeing'.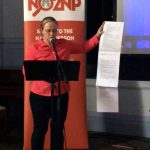 She then went on to list the many professionals who would be recording chronologies of "significant events" in a child's life. In case you were wondering, a 'significant event' includes, but is not restricted to:
• Positive or negative changes in family circumstances including separation, divorce, bereavement, housing, birth of a sibling, or emotional wellbeing.
• Kept or missed ante-natal, post-natal, immunisation, child health surveillance, or hospital appointments.
• In Perth & Kinross, parental non-engagement is also a significant event.
She finished with this quote from Perth & Kinross Council to practitioners on information sharing: "Remember, nothing whatsoever, in Scottish, UK and/or European Law and/or in the Scottish child protection legislative, policy and/or practice environments prevents you from sharing information where you are worried or concerned about a child or young person's wellbeing."
Nigel Kenny from The Christian Institute then explained a little about the judicial review of the Named Person legislation. He pointed out that, if successful, it could actually strike down the law – something many people did not realise.
Nigel explained that the NO2NP team believes that the legislation breaches both Article 8 of the European Convention on Human Rights and data protection law. We also believe it was beyond Holyrood's powers to amend data sharing law, as this is a matter reserved to Westminster.
As ever, the meeting concluded with a lively Q&A including:
• "Will Named Persons be able to access my medical records?" (Yes)
• "It's important to argue that it's unworkable, but it's also important to remember that it's wrong in principle."
• "What if two separate Named Persons allocated to different children in a family disagree with each other?"
• "I want teachers to teach".
• "I used to be a midwife and trust between professionals and families is vital: if you lose that, you've lost everything."
The NO2NP team will be back in Crieff on Saturday morning to join some local volunteers for an Action Day – if you live in the area, come and say hi!