Blog
Keeping you up to date on the progress of the Named Person scheme and the NO2NP campaign.
Posted 6 years ago
There was rain, there was sleet, a cold eastern wind and even some snow – but none of that deterred our intrepid team of volunteers, whose enthusiasm knew no bounds!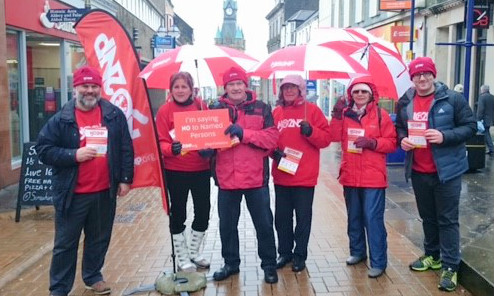 As the team were getting ready to leave the cafe where they were being briefed, a man came up to say he had signed the petition and was delighted we were in Dunfermline that day. He took some NO2NP flyers to give to his friends. A great start!
Our volunteers discovered that a number of other locals were aware of our campaign, but many were still completely unaware of the Named Person scheme and what it will mean for every young family in Scotland.
A local solicitor expressed his support for the campaign, as did a lady who worked for the Scottish Parliament. Others who had taken a leaflet wanted to sign the petition once they had read it.
The highlight of the morning was a young man who approached the team to ask how he could become a NO2NP volunteer! He said many of his friends were also very concerned about the issue and would want to become volunteers too – great news!
Would you like to become a NO2NP volunteer? If so, please contact us on volunteers@no2np.org.
The roadshow moves north to Perth tomorrow, where there will be an event at the Salutation Hotel, 30-34 South Street, Perth at 7.30pm – hope to see you there!