Blog
Keeping you up to date on the progress of the Named Person scheme and the NO2NP campaign.
Posted 6 years ago
Alongside the SNP Conference in Glasgow last week, IdeaSpace hosted a fringe event debate on Friday on the subject: "Is Scottish child protection promoting wellbeing or a climate of fear?"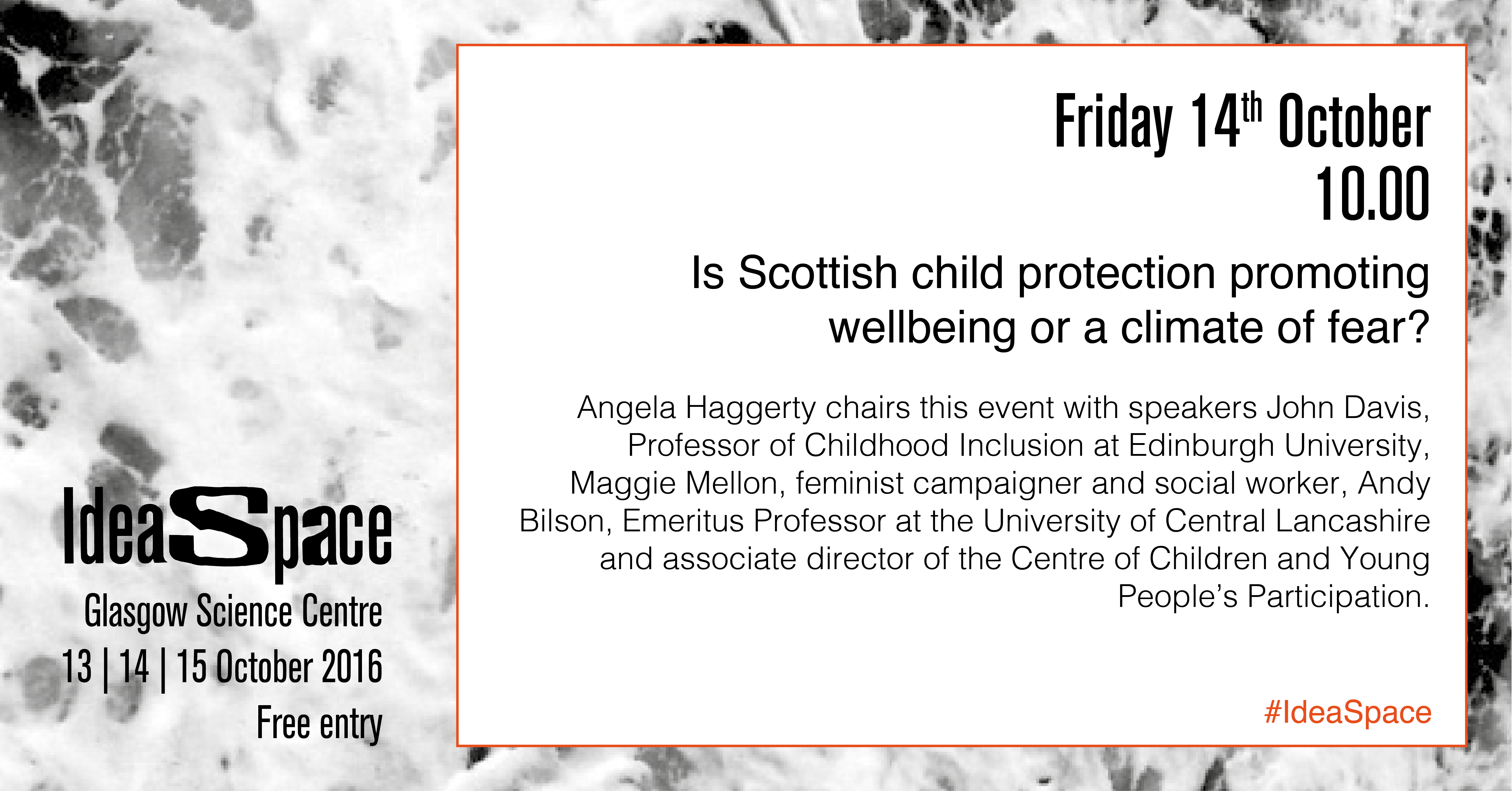 The debate's chairperson started by saying that the Scottish Government's Named Person policy had been the most debated subject on IdeaSpace's website in recent times and when she later took a straw poll of the audience, those who were opposed to the scheme made up the largest group.
Social work consultant and NO2NP supporter Maggie Mellon was first to speak. She said she gave up statutory children and family work a few years ago because of the increased unnecessary intrusion into families' lives, and the distrust between many of these families and social workers that often resulted.
She argued that the Government had "taken a wrong fork" with its legislation, which had not helped the situation and that "Named Persons are not the answer" to the very real needs of families blighted by poverty. Named Persons observe poverty as "risk" rather than "need".
Next up was Professor Andy Bilson, Emeritus Professor of Social Work at the University of Central Lancashire, who spoke about his research into referrals under the child protection system.
He referred to a study of trends in physical abuse and neglect in six countries, focusing on children under 11, which had concluded that there was "no clear evidence for an overall decrease in child maltreatment despite decades of policies designed to achieve such reductions".
Prof Bilson also pointed to research he had carried out in Western Australia, where, following the introduction of wellbeing legislation in 2006, referrals and reports on alleged harm had doubled over the first three years, yet there was no increase at all in the actual instances of harm.
He argued that there needs to be a new way of thinking that moves away from a singular focus on abuse and its prevention, and instead builds social capital in deprived communities and encourages advocacy and representation, rather than dictating what professionals believe to be best.
John Davis, Professor of Child Inclusion at the University of Edinburgh, started his talk by saying that he tells his social work students (jokingly!) that he is training them to become "storm troopers for the state"! He went on to say that professional interventions can make things worse and instead there needs to be minimum intervention and collaboration with parents, aiming to find support in the community, like we used to.
During Q&A, in response to a question from someone who supported Named Persons, Maggie Mellon said it was hard to define emotional abuse, and to distinguish neglect from poverty. She said that help isn't on offer for poorer families but parents will instead end up being judged.
Prof Bilson added that if social workers go in with an orientation that looks to blame, even if they find nothing, the family will be less likely to trust them in future.