Blog
Keeping you up to date on the progress of the Named Person scheme and the NO2NP campaign.
Posted 1 month ago
NO2NP will be holding a one-off special event, Named Persons: Doomed… or just delayed? in Edinburgh on Monday 20 March, 11:00am – 1:15pm.
Named Persons: Doomed… or just delayed?
Monday 20 March 2017, 11am – 1:15pm
John McIntyre Conference Centre, Edinburgh
Do you want the unique opportunity to question the QC behind the Supreme Court legal challenge?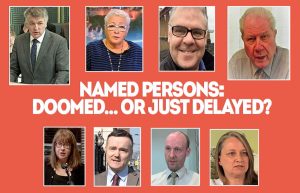 Would you like to be clear about your legal rights following the Supreme Court judgment and get equipped to take action in your community?
Do you want to know how to make MSPs more responsive to the concerns of parents?
Then come along to this one-off free event and hear from key figures involved in opposing the Named Person scheme; including legal experts, parents and key members of the NO2NP campaign. BOOK NOW
Speakers will include:
Aidan O'Neill QC – Leading human rights lawyer who acted on behalf of parties to the successful Named Person legal action
Jim Sillars – Former deputy leader of the SNP, who said the Named Persons legislation was "riddled with ambiguity".
Kevin McKenna – Columnist regularly featured in The National, The Herald and The Guardian, who has warned against the "deeply flawed" Named Persons legislation
Maggie Mellon – Independent social work consultant
Dr Stuart Waiton – Sociology and criminology lecturer at Abertay University
Posted 2 years ago
A team of NO2NP volunteers took to the streets of Edinburgh on Saturday to raise the campaign's profile in the latest NO2NP Action Day.
The team were based at the top of Leith Walk, where they were able to engage with hundreds of local residents on their way to the city centre.
People of all ages and from all walks of life were keen to sign the online petition then and there on the tablets the team were armed with – as a result we've now passed 12,000 signatures! Hundreds of others took the flyers that were handed out.
Some people were already aware of the Named Person scheme and the vast majority were opposed to it, whilst even the one or two who thought it might be a good idea found themselves having a rethink as the dangerous implications were explained to them. But many others were not aware of Named Persons at all, which shows how important it is for the campaign to continue to make the scheme known as widely as possible.
One couple were appalled to learn that – even though they were grandparents – since they were "associated adults" with their grandchildren, the Named Person might consider personal information about them appropriate for sharing with other agencies (without their knowledge or consent).
Another couple felt this was a sinister scheme that had overtones of Big Brother, while one man promised to tell all his friends about the campaign.
It's important that people also make their concerns known to their MSPs, as the Scottish Government seems increasingly reluctant to engage on the issue.
Our next Action Day will be in Glasgow on Saturday 19th September and don't forget the Roadshow event before it at the Couper Institute in Cathcart on Monday 14th September at 7.30pm.